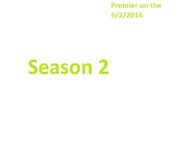 This is the second season of Little engines
It is to be shot in 2016 .
Shooting was announced for 2016 and premier was announced on the 2/11/2015 for the 6/2/2016. But when nothing was happening on the 6th of February fans were getting theories in their heads. Finally on the 16 of January at 9.34 pm Western European Time,show creator Dylan Connolly announced the news on the Little Engines Facebook Page that the show had been permanently cancelled but hinted that it could return in 2018 or 2019 or longer than that.
Season 2  Facts
Starts Date:?
End Date: ?
No. of Episodes: 18
No. of movies: 3
No. of DVD's:4
This is the first season of Hornby Engines
On the 2/11/2015 it was announced a movie would kick that season off
The episodes list was dropped on 29/11/2015
The season was never aired or recorded.